A Unique Way To Rotate Text Based Ads
On Any Website
Highly Visable Ads Drive Traffic To Your Sites!
Don't Let Your Competition Pass You By!
From The Desk Of: G&D Marketing
See it In Action At The Top Of This Page. Just Hit Refresh!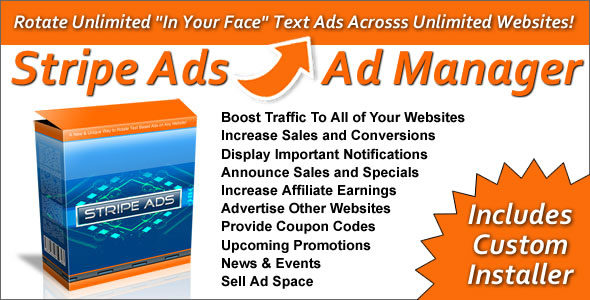 Stripe Ads are a unique approach to internet marketing and on-site advertising. Stripe Ads allows website owners and internet marketers to show text ads at the top of the browser window! Stripe Ads displays and rotates text ads within a striped-colored bar across the top of the visitor's browser, making it very hard to ignore..
Stripe Ads are highly configurable - you can easily design your Stripe Ad to blend in with your own website colors or make it stand out by using brighter colors. You can change the font color, stripe color, font face, font sizes and more, right within the Stripe Ads admin area.
Click screenshots for bigger view.
Ad Format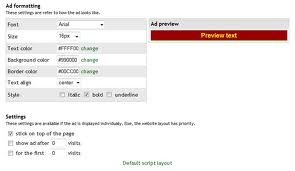 Dashboard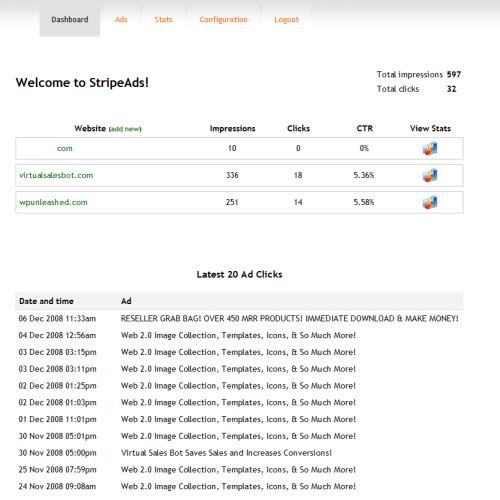 Ads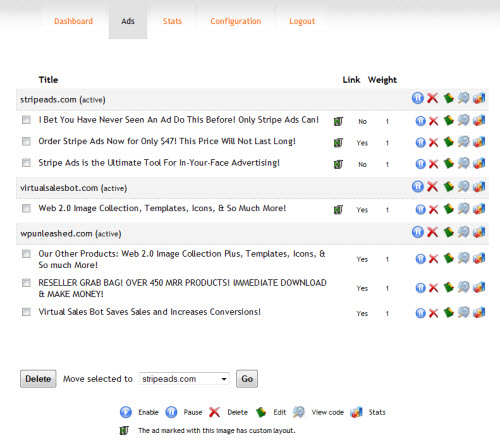 Stats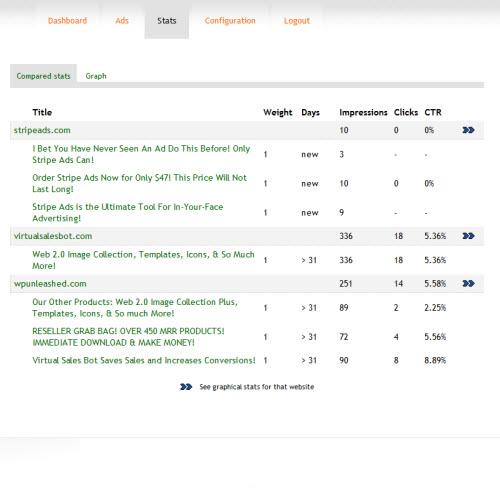 Graph
Stripe Ads has instant ad statistic tracking that will monitor the performance of your ads. With Stripe Ads, you can easily know if your ads work or not and if your ads need tweaking to increase your conversions. The easy-to-read statistical area will also allow you to monitor your network of websites and potential affiliate earnings.
"Stripe Ads Are Simply Awesome!.."
I'm driving hoards of traffic to my sites With Little or no effort at all!
- Admin/Owner Vtwin Hits
What can Stripe Ads do for you?

Rotate Unlimited Ads on Unlimited Websites - Rotate affiliate links, anchor tags, internal links, or anything else you want!
Easy Installation and Set Up - Installing Stripe Ads takes just a few clicks and you'll have Stripe Ads running in no time!
Very Easy to Put On Web Pages - Just add one line of code to show Stripe Ads on any webpage.
Highly Configurable - Customize the font size, font face, font color, stripe color, stripe border, fixed or float stripes, and more!
Easy Ad Management - Manage unlimited ads from a simple admin interface all controlled from a central location.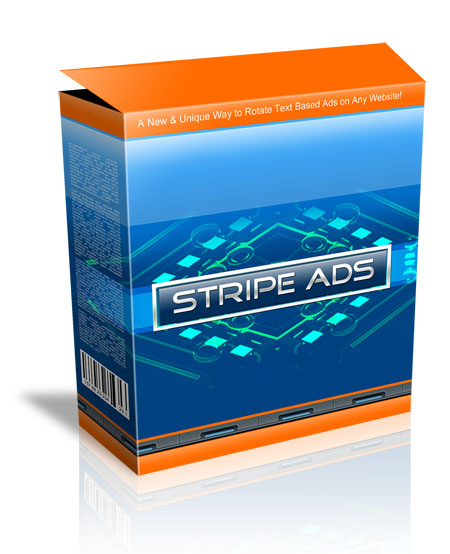 How will Stripe Ads benefit you?

Boost Traffic To Your Other Websites
Increase Sales and Conversions
Increase Affiliate Earnings
Sell Ad Space
And much, much more!
Use Stripe Ads To:

Display Important notifications
Announce Sales and Specials
Advertise Other Websites
Provide Coupon Codes
Upcoming Promotions
News & Events
And more!
Just install one simple line of code on each website and rotate ads to link to your other websites. It's so easy!

Stripe Ads are the PERFECT solution if you are an affiliate publisher!
With Stripe Ads, You Can:

Rotate unlimited Stripe Ads that contain links to your affiliates.

Hide the actual affiliate URL , keeping your commissions safe!

Track impressions and clicks so you can see if your ad campaigns are bringing in the most profit possible.
Start Driving Traffic To Your Site Today!
Hurry!
YES! (G&D Marketing), I can't wait to get my copy of (Stripe Ads)!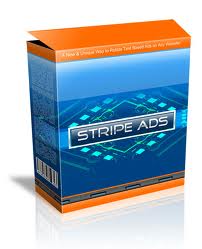 I'm Clicking Below and Ordering Right Now!

$3.00!



Sorry, Due To This Being A Digital Download
There Are Absolutely NO Refunds!
To Your Success,
G&D Marketing
P.S.
All Traffic Is Not Created Equal!
© Copyright 2006 - 2018 G&D Marketing™ - All Rights Reserved
Have Some Questions? Contact Us HERE
Powered By Huge Hit Hosting